Prada Linea Rossa Celebrates Juxtapositions in its Spring/Summer 2023 Campaign
Take a Look at these Prada Linea Rossa Spring/Summer 2023 Campaign Images Shot by Photographer Norbert Schoerner -- Prada Linea Rossa Spring/Summer 2023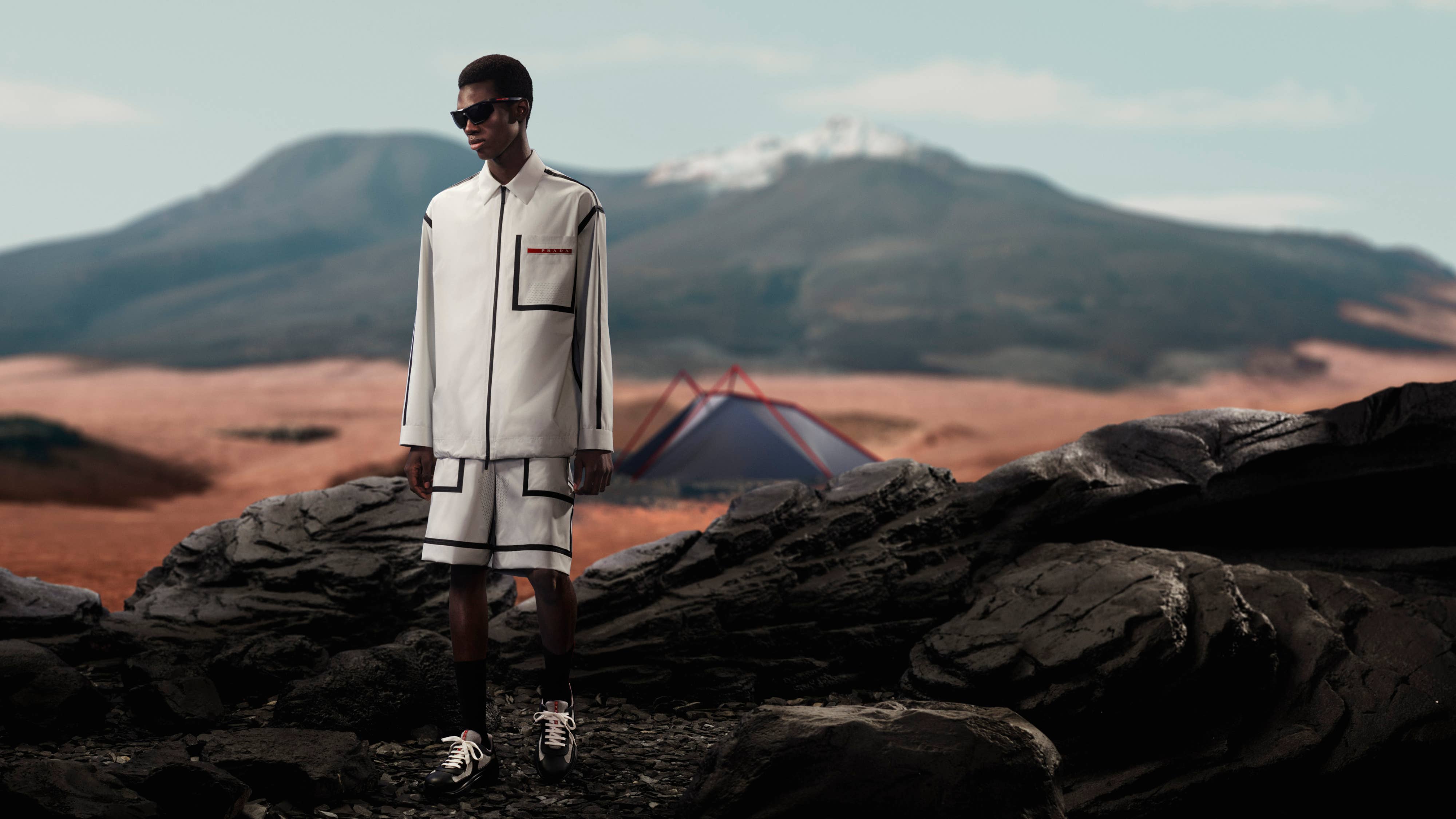 Publicist
Image via Norbert Schoerner for Prada Linea Rossa
Before Prada launched Linea Rossa in 1997, technical luxury activewear barely existed. To most, the idea seemed contradictory. But Linea Rossa transformed the tensions between luxe and sport into a winning combination, changing the worlds of high fashion, athletics, and pop culture in the process.
Today, that compelling juxtaposition remains at the heart of Prada Linea Rossa. In fact, it's so central to the brand that Prada is highlighting it in its Spring/Summer 2023 campaign. Working with photographer Norbert Schoerner, the campaign imagery explores the fusion of opposites, showing how today's reality requires not only that we acknowledge the spaces where "natural" and "urban," "instinctive" and "considered" meet, but also that we celebrate them. 
To examine those intersections, Schoerner's Linea Rossa photographs propose an "unreal" landscape where city skylines overlap with sweeping natural vistas, evoking the urbane heart of clothing that's made to function outdoors under extreme conditions. 
In these photos, we see solitary urban hikers at home in the paradoxical landscapes of the 21st century, relying on Linea Rossa gear to thrive. The clothing itself speaks to these "interlocked realities," drawing inspiration from human movement and corporeal needs, translating them into adaptable, technical garments packed with futuristic textiles, seams-turned-graphic devices, and monochrome black or white colorways punctuated with fluorescent orange pieces. In 2023, Linea Rossa is a home for the body, sheltering it against the contradictions of the world by embracing them. To drive that point home, Prada even collaborated with OMA to design a hyperlight modernist tent that stands out even in urban environments, thanks to its multifaceted construction and signature red lines. 
Scroll through to see more from the Spring/Summer campaign, then hit Prada.com to shop Linea Rossa yourself.